Liberty, OH (10/22/2013) - Only once in a "Blue Moon" does Honda R&D of Americas open their doors to visitors at their colossal research and development facility located in Liberty, Ohio.  As time would have it and as the leaves began to change colors in the Midwest, Honda R&D of Americas graciously agreed to let in a select few media publication representatives for a tour of their impressive infrastructure. After Honda wowed us with what seemed like an endless superstructure of state-of-the-art equipment, engineering bays, and testing labs, we were treated with a test ride at the neighboring TRC (Transportation Research Center) on the all-new redesigned 2014 Honda Rancher Utility ATV.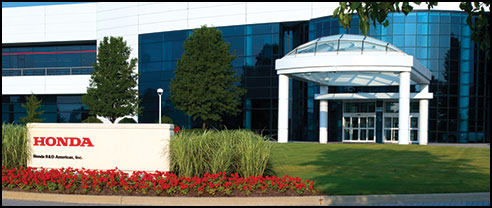 Honda R&D of Americas in Ohio houses both Auto and Powersports departments and is where many new Honda products are designed and developed
Our tour started out, of course, with checking in with security to ensure we had the right credentials to even step a foot past the limestone lined welcome lobby. As you can imagine, security at a research and development center that houses some of the most advanced prototypes of new products coming out is a high priority for any company. After all of our "I's were dotted and T's crossed", our tour began with a walk though of the Honda auto department. Honda R&D of Americas houses an impressive 2,000 employees; most of them consist of engineers.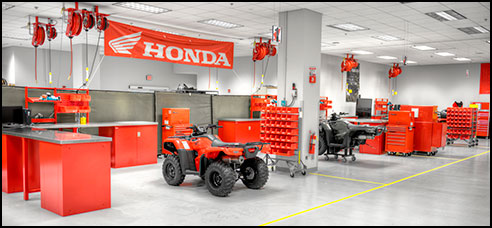 The Honda Powersports bay is impressive to say the least
Having both Auto and Powersports engineers in one building has some great advantages. A large amount of knowledge and research of the auto industry has been shared with Honda's Powersport division and has been used in development of many products including the all-new 2014 Honda Pioneer 700 SxS and the Honda Rancher Utility ATV.
| | |
| --- | --- |
| | |
| Honda Powersports Dyno Room | Honda Powersports Strength lab |
Just like the auto department, Honda's powersports division features many testing areas and labs including an Anechoic test cell which is used to reduce vibration noise, hot cold chamber that tests durability, Strength lab, and dynos for testing engine components and emissions. With each new Honda product, thousands of hours and/ or even years of rigorous testing, and changes will be made to each prototype before it is built and released to the public.
| | |
| --- | --- |
| | |
| Honda Powersports Hot & Cold Chamber | Honda Powersports Anechoic Test Cell |