John Deere Gator XUV 825i Links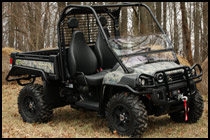 John Deere Gator 825i XUV 4x4
Union Bridge, MD
- John Deere has the long-standing reputation of providing quality, durable products that are built to last and get the job done. With UTV's becoming a staple in farming and construction environments, John Deere has fulfilled a growing need for a work based machine that provides power, stability and reliability that can also be utilized for recreational uses such as hunting and fishing in the way of the John Deere Gator RUV model line-up.
Several months ago, John Deere was gracious enough to give us a John Deere XUV 825i 4x4 RUV for a long term drive review. While most of the test drives on UTV vehicles that we do are for sport models and are high performance based, we felt that this would not be the best way to test out the 825i, as it is a purpose built machine and we wanted to see if it would hold up to what the everyday consumer of these types of Side-by-Sides would put it though. After a little thought, we found the perfect place to test the capabilities of the John Deere 825i.

Peace & Plenty Dairy Farm in Union Bridge, Maryland was the test location for our John Deere 825i XUV 4x4 RUV
We contacted our friend Davis Schwartzback at the Peace and Plenty Dairy Farm in central Maryland, and as a loyal John Deere user, he was more than happy to help us put the John Deere Gator to the test at his family's farm. The Peace and Plenty Dairy Farm is a family run establishment that has been in business for 43 years. The dairy is well known on the east coast and has won many awards over the years including a "Master Farmer" award, numerous quality awards, and they are one of only eleven dairies in the state of Maryland to earn the coveted "Dairy of Distinction" award. Peace and Plenty is a 1,100 acre facility with over 300 head of cattle, which to us, seemed like it would be an ideal location, offering the most practical application environment for the workhorse John Deere machine to prove itself.
The Swartzbeck family used the John Deere Gator 825i XUV for numerous tasks on the farm from hauling hay bales or carrying livestock around to different areas of the farm to name a few of the many uses the Swartzbeck family found for the Gator 825i
The Schwartzback family has logged about 80 hours of hard work around the farm so far on the Gator, and we can honestly say that the John Deere 825i has held up to whatever chores were thrown its way; everything from herding cattle to towing, to hauling hay bales and even transporting a few livestock. "We definitely put it to work! So far we have put in about 80 hours on the farm and did a little fun stuff with it as well," said Davis Schwartzback.
First off, we have to say that ATVRiders.com always recommends the use of helmets during any type of riding; however, we also realize that under certain circumstances, such as working on a farm or construction site, many users of UTV's do not wear them. With that in mind, we believe that the John Deere Gator 825i is one of the most stable UTV vehicles on the market. John Deere has taken this and many other factors into consideration with the Gator and they have made sure that their vehicles are safe and secure.
The Gator is without a doubt one of the most stable UTV's on the market, with a very low center of gravity that keeps the wheels firmly planted on the ground, even in stock form. For our unit we upgraded to the Fox Racing Shox and were very pleased with how well they performed. They added a bit of plushness to the ride and made the handling even better, which is bonus for rougher ground, or if one were to use the John Deere Gator for hunting or fishing in rugged areas.
| | |
| --- | --- |
| | |
| The compression adjustable FOX Racing shox provide for a major improvement in ride comfort over the standard suspension on the Gator 825i, which has 8" of wheel travel in the rear & 9" up front | The upgraded Maxxis Big Horn 2.0 tires mounted on stylish Aluminum Wheels performed flawlessly in our test without any flats & they provided great handling & traction under all conditions |
The Maxxis Bighorn tires provided plenty of grip and added to the stability of the machine. "It drove really well. Even with cornering at higher speed it still felt really stable and I felt totally in control at all times. The upgraded shocks were a bonus. They made it feel really smooth and nice, even when we were out in the field herding the cows," said Schwartzback.