John Deere Gator RSX 850i SxS / UTV Links

Moab, UT (10/30/2012) -The John Deere Gator utility vehicle family has been known for their incredible durability as a top work horse for farming and construction, but you know what they say about all work and no play, and the folks at John Deere seem to agree with that philosophy and have introduced a new member to the Gator family in the way of the 2013 John Deere RSX850i SxS / UTV.

John Deere chose to host the 2013 John Deere Gator RSX850i SxS / UTV Media Intro in beautiful Moab, UT were we stayed at the Sorrell River Ranch along the Colorado River
Recently, John Deere invited ATVriders.com out to Moab, Utah, one of our favorite ride destinations, to check out their new Gator RSX850i SxS on the diverse terrain of Moab, so we decided to bring along WORCS Pro racer, Robbie Mitchell, for the test drive, since the Utah native is familiar with the trails in Moab and has experience driving several different model SxS vehicles. Mitchell proved to be a great asset on the drive as he wasn't afraid to push the John Deere Gator RSX 850i SxS / UTV to it limits.
Sorrell River Ranch featured beautiful scenery & great ranch style cabins
Our two day adventure began at Sorrell River Ranch, right on the Colorado River, that offered incredible views of the red rock landscape, but we spent most of our time on the trails, so for our first drive test of the new John Deere Gator RSX 850i was on the 7 Mile Rim Trail, which is the same trail we explored this past winter with Robbie Mitchell.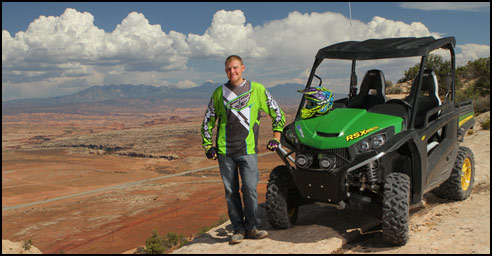 We brought along WORCS Pro ATV Racer Robbie Mitchell as our test driver as he is from the area & has a lot of experience riding on the trails in Moab, Utah. For the first day of the intro, John Deere took us to 7 Mile Rim Trail which features some breath taking overlooks as well as many other beautiful rock formations.
The 7 Mile Rim Trail offers some incredible scenery with the Determination Towers, Tusher Tunnel, Uranium Arch, Merrimac and Monitor Buttes, and several awesome overlooks of Arches National park and Mt LaSal.
On our test drive we visited many natural rock formations including the Tusher Tunnel, Uranium Arch, & many buttes that were along the trail in Moab, Utah