Kawasaki Teryx 750 UTV Links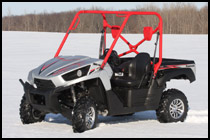 2011 Kawasaki Teryx 750 4x4 UTV
Alexandria, IN
- After being invited out to the Kawasaki Intro at Paradise Off-Road Park in Kentucky, I was immediately hooked on UTVs. Before the Kawasaki ride, I had only driven a Kawasaki Mule, so getting a chance to drive a Kawasaki Teryx 750 4x4 was a whole new experience because comparing the Kawasaki Mule to the Kawasaki Teryx 750 is like comparing a cargo van to a sports car.
After having the opportunity to experience the ride of a Kawasaki Teryx 750 first hand, I was looking to obtain one for a SxS / UTV project build for the Indianapolis Dealer Expo, so we contacted Kawasaki, and by January, a brand new 2011 Kawasaki Teryx 750 4x4 Sport had arrived, so it was now time to start ordering parts for our project build and find it a display booth at the Indy Dealer Expo, which was just over a month away.
As with most builds, we started off with the suspension. There is no since in building up a monster of an engine without being able to control it, that rule can be applied to just about anything in power sports. To kick off the build we contacted our friends at Lonestar Racing to see what they could do with the suspension and A-Arms.
The Lonestar +5" XTR-F Suspension Kit comes with Fox Racing Position Sensitive Shocks that need extended shock towers to be able to bolt up to the Teryx 750 UTV
To our luck, Lonestar Racing just released their new +5" XTR-F suspension kit. This kit includes heavy-duty +5" a-arms front and rear, extended shock towers, and extended axles, and Streamline Braided Steel Brake Lines. The Lonestar Racing +5" XTR-F suspension kit requires the use of Fox Racing Shox new Position Sensitive shocks. These shocks are by far the biggest we have seen for any UTV! They are about a foot longer than Kawasaki Teryx 750 stock shock and are so big in fact, that they require holes cut in the stock hood for the shock towers
Installation of the a-arms and suspension were fairly straightforward however, we did run into an issue when installing the rear shock towers. With the Lonestar's extended shock towers it is required that you cut holes in the bed of the Teryx as well, so that the extended shock towers and Fox Racing Shox have enough room to bolt up. This part was a little tricky, as we had to make many measurements when cutting our holes/ slots for the shock towers.
To make the front Lonestar shock towers to fit on the Teryx some modifications need to be done to the stock hood so that the hood will fit. This requires the removal of the headlights & holes to be cut in the hood