Kawasaki Teryx Related Links
Bramwell, WV (10/31/2013) - We recently attended the 2014 Kawasaki Teryx 800 SxS Media Introduction at the Hatfield McCoy Trail System in West Virginia. This would be a two-day adventure drive covering over 100 miles of rugged terrain in the all-new Kawasaki Teryx 800. The long adventurous drive would prove be a true test of how well the Kawasaki Teryx 800 holds up in real world conditions.
| | |
| --- | --- |
| | |
| 2014 Kawasaki Teryx 800 Limited Edition - Candy Lime Green | 2014 Kawasaki Teryx 800 Camo Edition - Realtree APG HD |
The 2014 Kawasaki Teryx 800 features an all-new design that shares similar characteristics of the four passenger Kawasaki Teryx 4 800. The Kawasaki Teryx 800 has many new features that make it a great all around multi-purpose machine.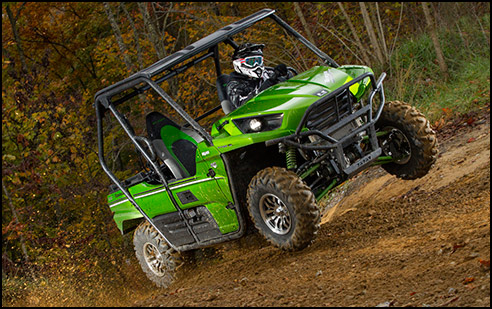 The 2014 Kawasaki Teryx 800 features new aggressive bodywork styling
At first glance, you may notice that the 2014 Kawasaki Teryx has a new look. The bodywork has new aggressive styling that still stays true to the Kawasaki Teryx bloodline. Kawasaki choose to use premium grade automotive paint to offset the limited edition models that are available in Candy Lime Green and Candy Burnt Orange with color-matched shock springs and A-arms and seats.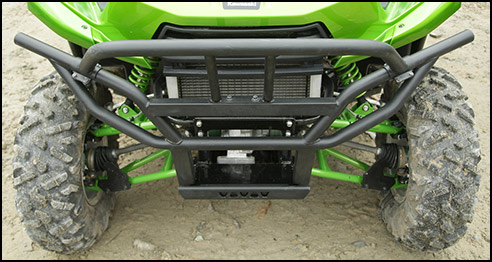 Plastic is no longer featured on the Kawasaki Teryx front bumper. The all-steel front bumper is durable & features a brush guard extension on the Limited Edition Model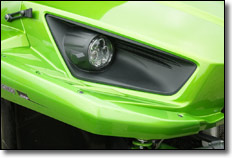 Powerful LED headlights come standard on the Kawasaki Teryx 800 Limited Edition. The LED headlights can be purchased as an accessory as well
The Limited Edition Kawasaki Teryx 800 also features LED headlights and a brush guard bumper extension for better protection that also provide a nice place to mount of additional accessories including a light bar or winch. Both the LED headlights and all-steel brush guard extension are available for purchase as accessories.
Although the Kawasaki Teryx 800 received a makeover, that wasn't the only thing Kawasaki did to update the Teryx. Most notable is the new larger displacement 783cc digital fuel-injected 90-degree V-twin engine that delivers more power than ever before. The new engine features 12% more torque throughout the broad RPM range and in addition there is a 26% increase in power.