Polaris Scrambler XP 1000 Links
Patton, PA (1/2/2014) -
In 2013, we were introduced to one of the most unique looking ATV models to hit the market, the Polaris Scrambler XP 850. New for 2014, Polaris has answered the never-ending request for more power with the introduction of the Polaris Scrambler XP 1000.
The 2014 Polaris Scrambler XP 1000 comes from the factory with 85+ horsepower!
The new 2014 Polaris Scrambler XP 1000 boasts an impressive 85+ horsepower stock, making it the highest horsepower in its class. Starting with the proven Polaris XP 850 single overhead cam engine, Polaris increased bore and the stroke to bump up the displacement. The Polaris Scrambler XP 1000 fuel-injected engine also features a 270-degree offset crankshaft and dual balance shaft to create a very smooth and virtually vibration free ride. With the high-performance upgrades, the 2014 Polaris Scrambler XP 1000 delivers immediate power that is readily available throughout the RPM range.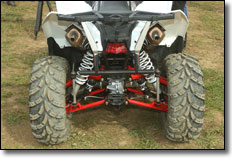 A Sport Tuned Stainless Steel Duel exhaust system gives the Polaris Scrambler XP 1000 a mean sound
With a press of a button the 952cc electronic fuel injected engine comes to life with a mean growl of the dual stainless steel sport tuned exhaust system. The riding style aboard the 2014 Polaris Scrambler XP 1000 is much like riding a built sport ATV. Although the Polaris Scrambler weighs in at 767 lbs, the front end will come up easily with the stab of the throttle. As you can imagine, with all the added power its make for one fun and fast ride!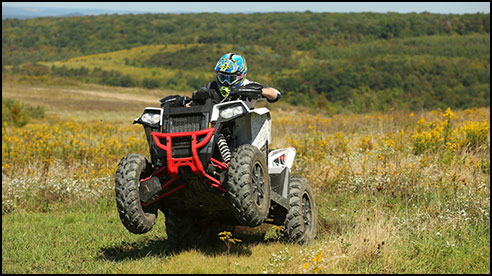 It is very easy to pull the front end up on the 2014 Polaris Scrambler XP 1000
With an abundance of power, Polaris knew that they had to design the suspension to work in sync with the powerful engine so that the rider could harness and control the power of the machine. To do this, Polaris chose to use FOX Podium X 2.0 compression adjustable shocks that were paired with electronic power steering.
The FOX Podium X 2.0 Shocks give the Polaris Scrambler XP 1000 a plush ride on the trail or landing off of a jump. In addition, the shocks are adjustable
The FOX Podium X 2.0 shocks, that are specifically tuned for sport riding, provide a very plush ride and can be easily dialed in to your own riding preference with a turn of a knob that is located on the shock reservoirs.