2013 Yamaha Tactical Black Special Editon ATV & SxS Links
Prescott, AZ
- For 2013, Yamaha announced in June the Special Edition Tactical Black Grizzly 700 EFI EPS Utility ATV and Rhino 700 FI SxS, which feature an all new matte black body and cast aluminum wheels. These new Special Edition models were specifically released with the outdoor shooting enthusiast in mind, so Yamaha invited the media to the Gunsite Academy in Prescott, Arizona to put these new SE units to the test.
Yamaha invited the media out to Prescott, Arizona for some tactical gun training at Gunsite, which is located less than hour north of the town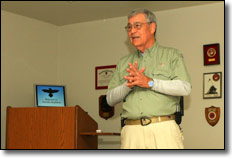 Gunsite's Owen Buz Mills
Jeff and Janelle Cooper opened Gunsite Ranch in 1976 with the focus on providing private citizens with gun defense protection skills. In 2000, Owen Buz Mills took over Gunsite and has continually enhanced the facility, and even built his house on the property, and today, Gunsite is a world renowned gun defense training facility.
For this special press event, Yamaha also teamed up with Ruger, Hornady, Galco, Mehanix Wears, and Oakley to provide the media with everything we needed to really utilize the new Special Edition Tactical Black Yamaha Rhino 700 SxS and Grizzly 700 Utility ATV.
| | |
| --- | --- |
| | |
| 2013 Yamaha Rhino 700 Tactical Black Special Edition SxS / UTV | 2013 Yamaha Grizzly 700 Tactical Black Special Edition Utility ATV |
Ruger provided us with the SR-556 auto loading rifle along with a SR-9c pistol for the event, and Galco provided us with our gun belts and holster along with magazine pouches. Also, we received a pair of Mechanix Wear gloves and Oakley sun glasses for eye protection. Finally, we seemed to have an endless supply of Hornady ammunition for the three day event.
For our tactical gun training, we were equipped with a Ruger SR-556 rifle & SR-9c Pistol
| | |
| --- | --- |
| | |
| Galco provided us with holsters, belts, and magazine pouches | We had an abundant supply of Hornady ammunition for the event |
In preparation for this event, ATVriders.com also hooked up with Proper for some BDU tactical clothing for the event because if we were going to spend several days out in the desert doing tactical training, we wanted to look the part, and we were very impressed with the gear we received for the event.
Propper offers a full line of BDU / Tactical Clothing & we were really impressed with the quality of clothing during three days of training in the Arizona high desert.