2015 Yamaha Viking VI Links
Austin, TX (7/25/2014)
- Since replacing its popular Rhino line of UTV's, Yamaha has been working to expand on the Viking line and has been quite successful in their efforts. For 2015, Yamaha has introduced the new Yamaha Viking VI, with an extra row of seats to accommodate six passengers. It is the only six passenger UTV to feature bucket seats, making it a true six seat UTV.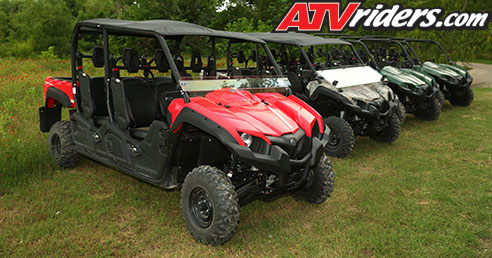 Yamaha invited us out to test ride their 2015 Yamaha Viking VI that seats six. Yamaha had the complete Viking VI lineup to choose from including the Viking VI, Viking VI EPS, & Viking VI EPS Special Edition
ATVRiders.com was recently invited to Hyatt Lost Pines Resort near Austin, TX for an introductory test drive with the 2015 Yamaha Viking VI. While the Hyatt Lost Pines Resort offers everything from horseback riding, golfing, water park, river recreation, and more, they don't offer off-road riding, but the Yamaha crew cut in a few miles of trails, so we could get a chance to see how the Yamaha Viking VI performed first hand.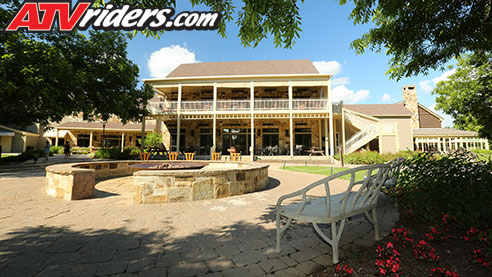 Hyatt Lost Pine Resort was where we stayed for the Yamaha Viking VI Media Intro
The fresh cut trails were tight and technical with a variety of terrain from hill climbs to switch back turns to test the handling and power along with a few high speed straightaways.  With a short day, we only had a few hours to test drive the Yamaha Viking VI, but we got in enough seat time to get a feel for Yamaha's new Viking VI.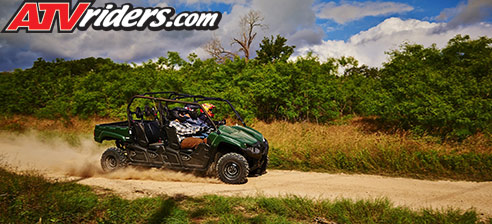 Yamaha cleared several trails for us to test ride the Yamaha Viking VI on at Hyatt Lost Pine Resort just outside Austin, Texas
One of the first things we noticed about the 2015 Yamaha Viking VI is that back row of seats is setup just like the front row of seats where the center passenger seat is situated back a bit, just enough to clear the shoulders of the left and right side passengers. As with the original Viking, the seats all have individual three-point harnesses to keep everyone safe. All of the seats are contoured for better comfort and support needed for long days out on the trail.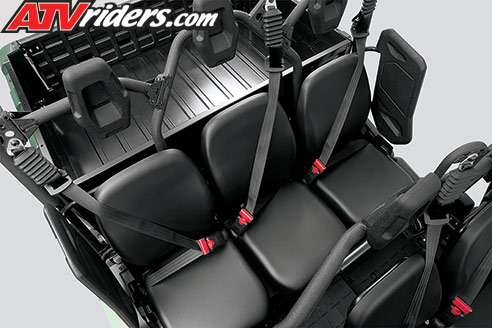 The 2015 Yamaha Viking700 VI features an extra row of seats that makes the Viking VI capable of carrying six passengers
Yamaha even took the rear-seated passengers into consideration to the point of making the front seat headrests hollow for better viewing of what is in front of them. The rear passenger seats are also set up 25mm, which helps with forward viewing as well.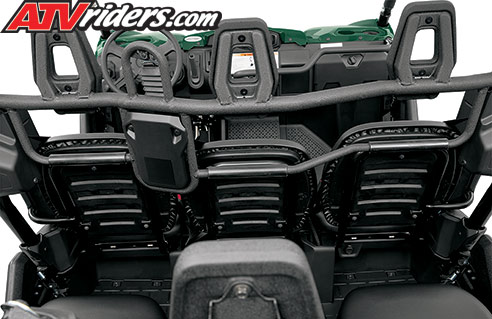 The rear seats are 25mm higher than the front for better visibility . There is also plenty of grab handles for the passengers both front and rear