2014 Yamaha Viking 700 SxS Links
Ten Sleep, WY
- In 2003, Yamaha changed the face of the performance SxS vehicles with the release of the Yamaha Rhino 660, which quickly grabbed the attention of off-road enthusiast, hunters, and farmers. As sales exploded for the Yamaha Rhino, many other OEMs quickly released rival SxS / UTV models, and just over ten years later, there is a full range of Side-by-Side off-road vehicles for consumers to select from to meet their individual needs.
After eleven years of production, the Yamaha Rhino was retired from the Yamaha line-up for 2014 with the release of the Yamaha Viking 700 SxS, which is larger and more powerful and versatile than its predecessor, the Yamaha Rhino. The engineers at Yamaha took all the features that made the Rhino so popular over the past decade and expanded on them to make the Yamaha Viking the perfect replacement for the Rhino.
| | |
| --- | --- |
| | |
| 2013 Yamaha Rhino 700 SxS | 2014 Yamaha Viking 700 SxS |
While many competing manufacturers are going for high speed, high performance, UTV's, which also come with a high price tag, Yamaha has created a niche for itself in providing an affordable multi-passenger, multi-purpose genre of Side-by-Side with the 2014 Yamaha Viking 700 SxS.
We first learned about the three-seater Yamaha Viking this summer and were quite curious to see what a true three-seater had to offer. We were skeptical yet excited at the same time when we were invited to Wyoming to test drive the Yamaha Viking for ourselves. We wondered if it could really be comfortable with three bucket seats, if it performed well and how sturdy would it be? We would eventually find out that the 2014 Yamaha Viking delivered on all counts.
Ten Sleep, Wyoming was our destination for the 2014 Yamaha Viking 700 SxS, which is home to the Big Horn National Forest
Red Reflet Ranch in Ten Sleep, Wyoming was our destination for this test drive. It seemed like sort of an odd name for a ranch, but it all made perfect sense once we arrived at our destination. "Reflet" is the French word for "reflection" and with the red rock hills reflecting in several of the ponds on the property; it seemed to be a perfect name for ranch nestled along the Big Horn National Forest.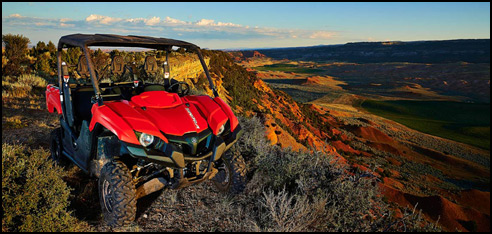 2014 Yamaha Viking SxS parked along the ridge line of the Red Reflet Ranch
The Red Reflet Ranch sits on 27,000+ acres just south of Tensleep, WY. The ranch is surrounded by beautiful red rock mountains with sweeping views and if you are lucky you can catch a glimpse of the abundant wild life, including herds of elk and deer. There are plenty of activities, including hunting, fishing, hiking, horseback riding, and even zip lining. Besides being a recreational retreat, Red Reflet is also a working cattle ranch, which made it the perfect place to test out the new three seated, multi-purpose 2014 Yamaha Viking UTV.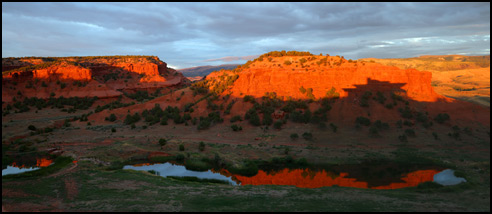 At sunset, it becomes obvious how the Red Reflet Ranch got its name with the red rocks cliffs glowing and reflecting in the ponds below