Carpe Diem 2 - Starring:

John Natalie Jr.
Doug Gust
Jeremiah Jones
Keith Little
Joel Hetrick
Brock Lyons
Chad Wienen
Skyler Stewart
Cale Downen
Sage Baker
Jason Lewis
Gregg Stewart
Roger Brown
Dave Sutherland Jr.
Kerry Getz
Bam Margera
The creator of Carpe Diem 2, Brad Phillips, has done something unique in his latest ATV DVD, by adding the option of either listening to the soundtrack or to the quads with the soundtrack in the background while viewing the movie, which will appeal to many viewers who really want to hear the roar of the engines instead of the usual sound track music.
The movie covers all aspects of ATV riding, which keep things interesting. It starts off with some freeriding at the Red Bud mx track with Team Suzuki's Doug Gust and Jeremiah Jones. Then they transition to a riding segment with Cale Downen, Chad Wienen, and SageBaker on an mx track in Illinois. Next, they venture through some Kentucky woods with Roger Brown, Jason Lewis, and Greg Stewart, which is followed by some video footage from the 2005 GNC MX Nationals.
Brad Phillips then throws in some video footage from various other extreme sports such as sportbikes, snowmobiles, along with some ATV street freestyle with wheelies, stunts, and stopies. From here, they head to Weschester Pennsylvania where Bam Margera does a gap jump on a Honda Recon, which is followed by some sandpit riding in New Jersey with Ryan Gee, Kerry Getz and Donald Lysinger. Ride on an mx track with Joel Hetrick in Pennsylvania. Go skydiving with Skyler Stewart and others, Wakeboard behind a Rhino in Florida. Freeride in Alabama on a mx track with Keith Little and Brock Lyons. Enjoy a carwash with Skyler Stewart and Jordan Vaughan in a Rhino. Freeride mx at Ski Fun Valley in Iowa with Skyler Stewart and Dave Sutherland Jr. Fly from Iowa to Lake Powell and enjoy some jetskiing, boating, and cliff jumping. Last stop hit the Glamis sand dunes with Brock Lyons. Last but not least a crash segment, and don't forget the extras and see the Rigs that Keith little, Brock Lyons, and Team Suzuki/Yoshimura use to travel to the races.
Carpe Diem 2 is about an hour long and has plenty to offer for any ATV enthusiast who can't get enough ATV video action, but we would give this DVD a PG-13 rating due to some of the mischief and riding scenes without a helmet, which takes away from the overall quality of the DVD. Otherwise, Brad Phillips definitely supplies an action packed DVD.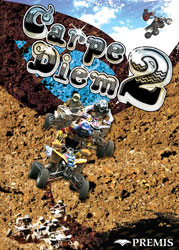 Carpe Diem 2
Only $22.50