2009 Fly Racing ATV Riding Gear Review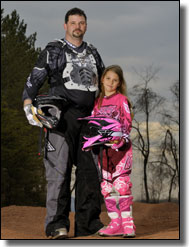 We tested the Fly Racing gear, along with helmet, chest protector, boots, and kidney belt

Baltimore, MD (9/26/2009) - Riding gear is as important to us as an ATV is to ride, and even the bare essentials should be used especially if you intend to hit the track or woods for some fast laps. Rider protection and comfort are paramount to you making it through a day of riding and even the smallest spill can lead to you visiting the ER if you are without proper gear.

For us, FLY gear has always been a top performer over the years and when this season was about to get underway, we turned to them for an order of their gear that had us hoping would last all season. Of course, by the time you read this, Fly's newest gear for 2010 will already be out on the market, but we felt putting the gear through more then one day would be a better test and allow us to put the gear through ½ a season of abuse before we wrote a review on it.

Styling is huge in riding gear, and Fly is no different. Our gear for our adult rider was purchased for it's durability and ability to hide the typical stains that come from weekend after weekend of ripping around a motocross track. We ran into our first issue when the size sticker was removed, causing the graphics underneath to lift. I have seen this before, and usually its cause is due to the adhesive used that actually embeds itself into the clear. A call to Fly would have netted us a new helmet but we opted to run it as is and would see if the damage would spread, which it hasn't really however this is something that could have easily been remedied by Fly's customer service which is outstanding. The adult helmet was very comfortable with ample padding and may be sized just a touch small as the fit was fairly snug. Our rider reported that the open air design of the mouth guard allowed a lot of dust and dirt in on his initial few rides. Overall the helmet has withstood the harsh cleanings that follow a muddy weekend and even with the initial issue, still looks great after several months of use.
We purchased the Adult gear for our rider based on it's durability and ability to hide the typical stains that come from your typical motocross track (left) and the Youth gear was a very bright pink color to make our rider stand out
The Youth helmet was very bright in color, which sure makes our young racer stand out. The chin strap is a bit hard to get buckled and we feel the snap is the main reason as it seems to be located in just the right spot to cause us issues. Not a problem that is a deal breaker, but a personal peeve. The helmet was also commended on being very comfortable but also suffered from a chipping clear coat on the visor.