H-Bomb Films "National Born Killers"
ATV Motocross Racing Documentary DVD Product Review
National Born Killers Links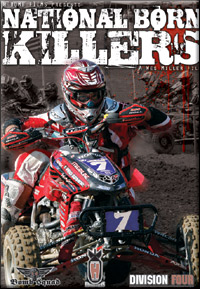 Wes Miller and the award winning H-Bomb Films crew have done it again with the release of National Born Killers. Known world-wide for their work on the Huevos series, H-bomb Films now brings to the ATV fans a documentary on pro ATV motocross racing, and the film is based on unforgettable 2006 ATVA Motocross National season. National Born Killers covers all fourteen rounds with non-stop adrenaline pumping look at one of the most dramatic seasons of motocross ATV racing ever witnessed as it portrays what it takes to be a Pro ATV Motocross racer in the new age of factory support and big money on the line.

H-Bomb Films, Wes Miller, followed the 2006 ATVA Motocross Series all across the country from the first moto gate drop in California at Glen Helen to the season finale in the heartland of the country at the all new Ballance MotoX in Oakland, Kentucky. Along the way, Miller captured some of the most intense racing action in ATV motocross history and conducted candid interviews with all of the top professional ATV racers: Joe Byrd, Doug Gust, Jeremiah Jones, John Natalie, Keith Little, Pat Brown, and many more. As Wes Miller documents all aspects of what it takes to be a professional ATV motocross racer, and reveals the sacrifice and dedication that is required to be competitive at the pro level in the chase for the 2006 Motocross National Championship

National Born Killers goes behind the scenes with interviews with not only the racers themselves, but also those that surround them and make it possible for them to live the life as a professional ATV racer. As Wes Miller, reveals trials and tribulations of being a professional rider and the strain it places on not only the racers, but also the wives, children, parents, mechanics, and sponsors that support to the racers. From traveling and expenses to injuries and time spent away from home, pro racers and those around them tell their tales of what they've sacrificed to be where they are today. None of these riders made it to pro status without sacrifice and dedication, which is made very evident through out the film, and National Born Killers does an excellent job of portraying this normally unseen side of racing.
Hinson Racing's Wayne Hinson (left) & Harold Goodman Sr. (right) among others provide insight on what is involved to be a professional ATV motocross racer
The films also reveals the controversial side of racing ranging from riders forcing each other off the track due to the ever increasing need to win with big money on the line. John Natalie and Joe Byrd go back and forth about Byrd's jump on a yellow flag in Virginia, and Natalie didn't hold back "Just being Joe Byrd, I mean he's the dirtiest, [beep] rider I think I've ever ridden against and that goes on the record you can play that anywhere you want," said Natalie.
The rivalry betwen John Natalie Jr & Joe Byrd is explored
Furthermore, National Born Killers reveals how the relationships among the racers have changed with factory involved, which had a profound affect on the relationship with Doug Gust and Joe Byrd. "We were good friends and when we got these factory deals we can't practice together any more. Joe didn't understand that at first but I think he does now that he's got a factory ride," Said Gust.
::CONTINUED::