By: Ryan Verrastro
Huevos 8 DVD Product Review: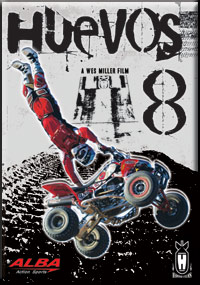 Huevos 8 DVD Cover

With the recent release of Huevos 8ight, Wes Miller and his crew dropped a bomb on the ATV film industry with a yield that makes it hard to take any other video seriously.

Many fans of the ongoing H-Bomb video legacy were worried that faculty may have shot themselves in the foot with the back-flipped Huevos 7, leaving nowhere to go from there. Huevos 8ight puts those concerns to rest with a buffet of new and interesting features to overload the senses.

If you were waiting for an all-out feet-flying, altitude-seeking, health-care revoking freestyle video you will be disappointed. Instead this film covers all the disciplines of ATV riding and then some. Huevos 8ight is a well-balanced ATV adventure that takes you across the country and globe with the most elite riders the sport has to offer.

Quad riding isn't all about the freestyle mania crowding other video's highlights and Huevos 8ight recognizes that. Although there aren't any B-flips in this latest offering there are plenty man and machine acrobatics that will instill a need deep inside your head to go out and hurt yourself. Along with F-style footage, Wes sheds some light on other mainstays in the ATV world such as free rides, GNC nationals, cross-country riding, the Baja 500, ice drifting at high speeds and mud bogging. Including, as far as I know, the debut of Super Moto footage in a video. Also in the film are some less-conventional segments that usually wouldn't be found in a quad video. Some of those are extreme Rhino riding/flying, jacked up puppy-killer trucks having fun in the mud, an urban assault of quads and crotch-rockets executed by Suburban Psychos and the Ruff Riders, a Sturgis ride and a very "interesting" race in Somerset England.
| | | |
| --- | --- | --- |
| | | |
| Levi Marana grows wings off the dunes of Glamis | Chad Spooner demonstrating what more people should be doing with Rhinos | What happens when Sean O'Callaghan wakes up on the wrong side of the bed |
The list of pilots: Dana Creech, Ryan Bemis, Sheldon Riggs, Jeremiah Jones, Doug Eichner, Jason Luburgh, Cyle Chislock, Tyler Pittman, Brent Spooner, Chad Spooner, Levy Marana, Mike Cafro, Darrel Patton, Tyler Moles, Cody Smith, Kory Ellis, Doug Gust, Tim Farr, Tavis Cain, John Natalie Jr, Joe Byrd, Shane Hitt, Harold Goodman, Keith Little, Jason Dunkelberger, Dustin Wimmer, Pat Brown, Giovanni Colon, Jackie Meadows, Mike Ballew, August Goebel, Pablo Arcienege, Brandon Garcia, Andrew Buck, Mike Kneebusch, Wes Miller, Ben Vaught, Caleb Moore, Garrick Lastra, Dustin Nelson, Nic Granlund, Corey Czajkowski, Kevin Comer, Sean O'Callaghan, Thierry Sunier, Andrew Heimbuch, Ralph Annunziata, Anthony Rizzo, Jim Stack, Mike Lucas, Jason Hughes, Daniel Ketterer, Travis Spader, Matt Tucker, Jaimie Bougher, Myka Carpenter, Jason Shanas, Joel Sistrunk, Casey Beach, Chris Duncan, Greg McMullen, David Smith, Clint Adams, Craig Lowery, Oiste, and the Ruff Riders.
Locations invaded: California, Florida, Kentucky, Louisiana, Michigan, Minnesota, Missouri, New Jersey, New York, Nevada, Ohio, Pennsylvania, England and Mexico.
With a roster of riders that more resembles a hall of fame checklist and locations that are considered the holy-lands of the ATV world, Huevos 8ight taps the best resources of the industry and presents them in exceptional form.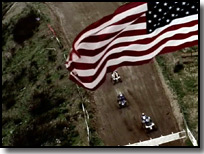 One of the best angle ever used in an ATV video, shot at Glen Helen


In this edition of the Huevos series Mr. Miller sets the benchmark for video rendition. The cinematography exploited in this video blows away anything previously released in the industry, EVER! His experience and creativity show throughout the film with Hollywood-grade transitions, sick videography angles (like my favorites from the helicopter in the Glen Helen section) and with what seems to be a "motion-activated" soundtrack. This video is truly a pioneering endeavor in film quality that, in the future, will make it difficult to fork over cash for anything else on a lesser level.

In my opinion Huevos 8eight isn't my favorite in the series lineup with regards to content. I didn't appreciate the trucks and the ride in Sturgis. Off-roading in trucks and ATV burnouts on pavement are daily occurrences for this writer and served little interest for me on the big screen. I should say though that I live in what would be considered a village to anyone who resides in a major city, so my question is how did the Bomb Squad get away with writing their names with rubber on the roads of NYC? But in it's defense I can't say I remember the last time my friends and I took a supped-up Rhino and drove it off a ramp at forty miles an hour. I guess the film's abstract variety will appeal to everyone differently.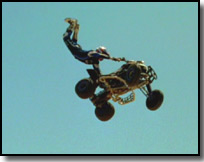 Sheldon Riggs stretching his leg during a Bomb Squad session

Huevos 8ight doesn't fall short when it comes to awesome quad action that you wouldn't usually see if not in a video, or ever for that matter. Although I wish it didn't stray as far away from quads as it sometimes did, I think it's a great vid and after viewing it for yourself I think you'll find it more than earns its worthiness amongst others in your collection.

Pros: Amazing never before seen cinematography, great locations and all-star riders packed into a sampling of diverse situations

Cons: You're not in the video, limelight on hill-billies with 4x4s and potbellies with Harleys.

Discuss this in ATVriders.com Forum