Herrrmann Racing +1 A-Arms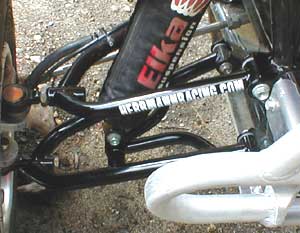 Well, I've had my new a-arms on the quad for a few weeks now, and have to admit that I'm veryimpressed.. I wanted to gain a little stability, but at the same time I didn't want the quad to be so wide that it caused me trouble on the trails..
After some research I settled on +1 arms from Herrmann Racing. I gained a little width for stability, and also adjustable camber.. They offer the arms powdercoated any color you could possibly dream of, so it was easy to get a set that matched my freshly powdercoated gloss black frame..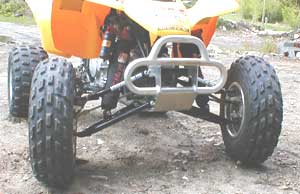 When my arms arrived I was worse than a little kid at Christmas, couldn't wait to tear the box open and check them out.. The first thing that really stood out when I pulled them out was how beefy the lower shock mount was, and the size of the ball-joints.. These are some heavy-duty ball-joints! I think my worries of broken lower shock mounts are a thing of the past also.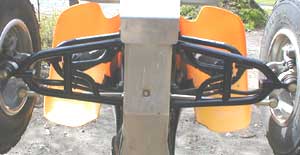 Being in a rush, I couldn't wait to get them bolted on and try them out.. Installation proved to be hassle free. It took a few minutes to get the camber adjusted to where I was happy with it, but after that it was a snap. My Elka's hadn't arrived yet, so I wound up riding 2 weekends on the stock shocks.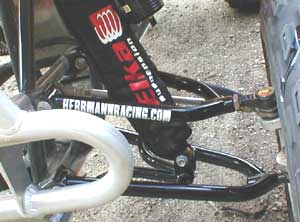 It didn't take me long to realize that even slightly increasing the front width helped with stability (now I know why you MX guys run +2's and +3's.. I was very excited with the extra stability.. I had originally worried about the extra width causing me trouble on the trails, but in 3 days of riding the extra width never caused me any trouble.
I now have my Elkas installed, and between the improved suspension action, and extra width the quad feel's like it's glued to the ground. I couldn't be happier with my decision.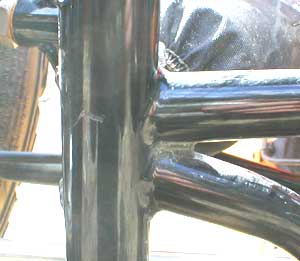 I'll be sure to post durability results after I get some serious ride time on the arms, but I don't foresee any type of problem.. Clean welds, top quality material, and strong ball joints should equal great durability!
If you'd like to get yourself a set, you can visit Herrmann Racing's web site or give Brad a call at 215-679-2410, make sure to tell him you read about his arms on ATVriders.com!
I'd also like to add that besides a-arms, Herrmann Racing has lot's of great billet accessories (bearing carriers, shock reservoir mounts, etc..) along with a great variety of custom chassis accessories (a-arms, swing arms, complete rolling chassis, you name it!)... Definitely worth taking a peek at their site to check out all the goodies!