iShock I5550 Complete ATV Front Suspension System Product Review
C&D Racing is always striving to stay on top of new and innovative products in the ATV industry. We pride ourselves in being one of the most knowledgeable ATV companies in the business. How do we do this?? By testing and servicing the products that we sell.
Recently C&D Racing was contacted by HydroDynamics makers of the iShock complete suspension system. The guys at HydroDynamics were interested in getting some feed back on there new complete front suspension system. I must admit we were very interested in trying out this setup to see how well it would perform against the other aftermarket suspension products that we sell.
FIRST IMPRESSIONS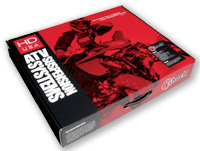 I5500 iShock Packaging

Upon receiving the I5500 complete front suspension system the first thing that we noticed was how much thought must have went into the packaging for this kit. The box was very professional looking and had detailed information on the components in the kit. This box looks so good you will not want to throw it away. After opening the box I was again impressed to find each component in the kit had it own place and was properly packaged and secured so as not to move around and get damaged in freight. This kit is so well packaged that all we have to do is lift the lid and it displays itself very nicely, no packing peanuts or bubble wrap here.

After taking a few photo of the packaging, I proceeded to take an inventory of the contents of this kit to make sure I would have all the components needed to install this front suspension system without hassle. I was very pleased to find that everything need for the install was included, I mean everything right down to an instructional DVD and the ball joint separating tool. We sell a lot of suspension system here and have never seen a kit this complete. I have listed below the contents of this kit.

I5500 Complete Front Suspension System
1Pair iShock F8 fully adjustable piggy back shocks
1 set of +2 black Phantom arms including ball joints and extended tie rods
1 set of +2 extended steel braided brake lines
2 sets of billet brake line clamps
1 ball joint separating tool
1 Instructional DVD
2 preload spanner wrenchs
| | |
| --- | --- |
| | |
| The suspension components are neatly arranged and packaged | All the components are individually packaged and tagged accordingly |
After looking over the components very closely I was very impressed in the quality of the iShock complete suspension kit, and here is a break down of the components in the kit.
iShock F8 front shocks:
At first glance these shocks just plain look good, the black, red, gold and chrome color scheme is very distinctive. What else would you expect from a shock designed in the USA and manufactured in Italy.
The shock heads are anodized black and the bodies are hard anodized gold. The springs are made of high quality silicone steel and are powder coated black. The compression is adjusted with a large knob at the top of the piggy back reservoir. The shocks feature 5/8 hard chrome plated shafts, threaded preload, and a flat screw type rebound adjustment on the bottom shock eyelet.
I 2500 Phantom A-arms
These arms are constructed of 4130 chromoly steel, tig welded, magna fluxed and x-rayed to insure proper welds and structural integrity, which is a perfect example of their attention to detail. The finish on the A-arms is a high gloss black powder coat. The ball joints are very high quality, lower ball joint fits into a machined pocket for proper alignment and the upper ball joint is used to make camber adjustments. At the frame they incorporate long lasting urethane bushings and steel sleeves and some models even come with grease zerks.
Grunts ( Brake Line Clamps)
These brake line clamps are machined from billet aluminum. They use a rubber sleeve to prevent them from damaging the finish on the a-arm incase the clamp rotates. They are secures with counter sunk allen head bolts
3 Piece Steel Braided Spider Brake Lines
High quality steel braided brake lines with a clear vinyl covering. These lines come with all new banjo bolts and copper crush washers
Ball Joint Separating Tool
This tool is very straight forward it allows you to press the ball joints out of the spindles without damaging them buy using a hammer or pickle fork. This allows reuse of the stock arms if need in the future.
Spring Preload Tools
There are a pair of spanner wrenches used to loosen and adjust the threaded jam collars which allows for spring preload changes
Instructional DVD
This DVD is filled with step by step installation instructions for the iShock complete suspension system. iShock also gives you tips on bleeding brakes, setting camber angles, toe in/toe out, and using the ball joint separating tool.
INSTALLATION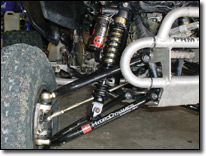 2004 Honda TRX450R Installation

After watching the instructional DVD we began the installation of the I5500 Kit on our 04 TRX450R. The installation went fairly well as the A-arms fit the frame perfectly with out any bending of A-arm tabs needed, and the bolts lined up as they should. Installation of the ball joints was simple although I would like to see an exploded view of the positioning of each washer for the upper and lower ball joints just so that customers aren't questioning the hardware placement. As for shock installation we only ran into one small issue, our frame was powder coated which reduced the clearance between the top of the shock and the frame, so we had to force the shock up to align the bushings with the frame shock mounts. I don't foresee this being an issue on a stock frame. I would estimate installation time to be around 2-3 hrs depending on your mechanical skills and interruptions including time spent watching the DVD.

THE TEST RIDES
Cross Country Trail Riding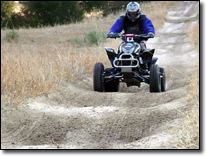 Testing the Suspension through the whooped out trails

Now for the part you have all been waiting for the ride test. C&D Racing chose to test an off the shelf front suspension system just like it comes from the factory. All of these kits can be custom valved and sprung if the customer has special needs, and iShock believes it is possible to use computer aided design and data acquisition to valve a shock for many different riders and situations. They promise to not hide back order problems with the popular "we have a 4 to 6 week lead time because each shock is valved for each rider". However if there is an abnormal situation that requires special valving or spring rates, they are happy to do this at the time of purchase for no additional charge.

For the first part of the test C&D Racing headed to a National Forrest located near Halsey Nebraska for some trail riding. This forest consists of many miles of relatively wide, sandy, whooped trails, which in some places can be ridden at very high speeds. We also brought along a stock 06 Honda TRX450R for comparison purposes. The iShocks were setup for +2 A-arms and we ran a 4+1 offset wheels to narrow the 450R for the woods. To compensate for the decreased leverage we backed the preload off the shocks and softened the compression setting.

The test riders for this day varied in height and weight from 5'4" 110 lbs to 6' 180lbs. The first to ride this new setup was Dusty from C&D Racing, we setout to run our normal loop so that we could concentrate on what the shocks were doing and not so much on the trails. The first part of our loop is a very fast open trail that has a lot of sweeping corners and fast elevation changes, this trail can be ran in 5th gear. The trail came to an end and I decided to stop and get some feedback from her and to see if she needed any setup changes. To my surprise her answer was "nope they feel pretty plush, they ride like a triple rate" so we continued on our way.

After the high speed open section the trail transitions into tighter woods with alot of elevation changes along with short stumps and roots sticking up in the trail this type of terrain really gives your suspension a workout. I was concerned that the single rate spring setup on the iShocks would be harsh over these small fast impacts, but I would have to wait to see what Dusty had to say about it (One thing to note is that Dusty has broken her left wrist twice and is the first one to complain about suspension that in not up to her expectations). After finishing this part of the loop we stopped to compare mental notes about how each bike felt over the obstacles we just encountered. As for the iShocks, I questioned Dusty about the way they reacted to the small fast hits and she again replied that she had no complaints, she felt they were every bit as plush as any multi spring rate shock that she has used. She never came close to feeling them wanting to bottom out on the hard hits. After our short brake we continued down the trail.

The next section of the trail is a couple miles long with a very fast deeply whooped out straight-away. We typically ride this section in 4th and 5th gear by the end of this section I could really tell I had not been on an ATV since October (did I mention I was on a stock 06 450r). Again it was time to stop and compare notes, Dusty felt the factory rebound settings on the iShocks were spot on and that the shocks really performed well in the whoops. The only thing that was holding her back in this fast whoop section was the stock rear shock converted for a 180lb rider and not 110lb rider like Dusty.

At this point my curiosity was getting the best of me and I kindly stated (demanded) it was my turn to get in some seat time. We left all the setting on the shock as they were even though I weight 70 lbs more than Dusty, and my riding style is quite different from hers. The next trail section is short and fast which did not give me much time to get a feel for the shocks before heading into what was next, one of my favorite sections of this loop, a long windy deep whoop section that has a very steep hill on one side and an even steeper drop off on the other side. This section is no place for ill handling suspension. As I made the fast left hand turn to enter the whoop section, I pretty much made up my mind that I would just hit it as hard as I normally do and see how well the iShocks handled it. (I never recommend hitting obstacles like this without first getting a feel for the new setup but after discussing the bikes handling with Dusty just a few minutes earlier I was confident that the shocks would perform well). The thing about this whoop section is that you just settle into a rhythm and them you come upon a whoop that is taller or has different spacing, this can mean disaster for the rider if you come up short or drop the front end to low. The front shock felt great through this section, and I also felt they were plush but never felt them bottom or get harsh even when I allowed the front to drop down to hit the taller whoop with a lot of force. After running this section we decided this would be a good place to get some action shots.

It was now time to turn around and head back, so for the return trip, we took a tighter trail with high banked switch backs and fast elevation changes, which feels like riding on a roller coaster track. Riding this part of the trail I got a good feel for the A-arms and how well they handled, the front end steered very precise I never felt it push or wander in the fast twisty sections. As with any tight fast trails you always risk clipping a tree here and there and of course I did. My biggest concern with hitting trees with the front tires is bending a tie rod. As many of you know the stock Honda tie rods bent very easy, I was pleased to see that the iShock extended tie rods held up very well to my abuse without any signs of bending or fatigue.

Motocross Track Riding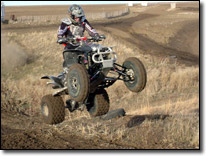 Fox run Motocross Testing

For the next part of our ride test C&D Racing traveled to Fox Run an MX track near Friend Nebraska to see how they performed on the motocross track. This track is a large outdoor style mx track with plenty of whoops, doubles, triples, and tabletops. We left the bike setup and suspension setting all the same so we could really test the versatility of the iShock suspension system. My Honda is not ideally setup for motocross with 6 ply woods tires, beadlocks, full skid plates, bumpers, etc but in testing you must have a constant variable to really be objective. With all the extra weight we are sure to give these shocks a workout. After taking a few laps to get use to the track, it was time for some actual test riding.

After putting in a few test laps on the track, I was pleased with the performance of these shocks. I hit double after double purposely coming up short occasionally, and I never felt any harsh bottoming from the front shocks and every landing was predictable and controlled even when I landed much less than perfect the shocks and A-arms absorbed the hit and tracked straight. This setup felt really good through a short shallow whoop section that you can just hit at speed and blitz through, which is followed by a taller very short gapped whoop section that has no rhythm to it. This is where you just pound the front end into the face of each one of them. Again the shocks felt good I never felt a harsh hit or any undesired feed back. After about 45 minute to an hour of running laps on this track it was time for some data acquisition, I headed straight for the truck to take some temperature reading on the shocks. To obtain these reading we used a CEN-Tech model 91778 non contact laser thermometer. The front shock temperature was very balanced with both of them reading 70 to 72 degrees Fahrenheit, and the stock rear shock temperature was 160 degrees Fahrenheit. I was really surprised to see such a low temperature reading on the front shocks .This data just goes to show that a lot of work went in the design and manufacturing of the iShocks.

FINAL THOUGHTS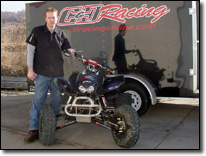 Colby Kostman - C&D Racing

The installation of this kit was very easy and straight forward as Hydro-Dynamics provides everything you need including good detailed instructions and even special tools required for the installation. The components in this kit are all of high quality construction and are designed to work together, so there is no more need to mix and match brands and hope they work together. The A-arms fit perfect without any modifications and held up very well to our abuse, and the ball joints and bushing are very heavy duty and made of quality materials so they should last a long time. The iShock's were also very well designed and built and will holdup to many years of abuse, how else could they offer an industry leading lifetime warranty. I feel that HydroDynamics did a great job with the valving and spring rates on these shocks, and I could not have asked for a better ride from their entry level shocks. This level of performance could not have been achieved without countless hours of testing and data acquisition, and the crew at hydroDynamics have really done there homework.

In the near future C&D Racing will be disassembling our front iShocks and installing custom valving and spring rates to see how much more performance we can get out of these already top quality shocks. I have been in contact with the guys from HydroDynamics about some of there future plans and products and can't wait to see what there high end stuff can do. In the near future I hope to have a rear shock to match the fronts from iShock. C&D Racing will continue to test the products from iShock giving them and you feed back so that they can make any changes needed and so you can make an educated decision when it comes to purchasing your next suspension package. HydroDynamics also offer a lifetime warranty for more information about the warranty and the iShock product visit www.atvishock.com To purchase any of the HydroDynamics products contact C&D Racing.

AVAILABILITY
ATVriders.com Site Sponsor, C&D Racing,carries a full line of iShock Suspension Kits, and they offer discounts to ATVriders.com members.


www.atvishock.com
9303 Bond Ave. Suite C
El Cajon, CA 92021
(619) 390-2430