Maxxis "Razr Cross" ATV Tires Product Review
(written by Tina Lugan)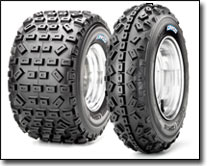 Maxxis "Razr Cross" ATV Tires

We have seen the ATV industry grow significantly in recent years, and as the ATV line up has grown and expanded, so have the demand for tires. Mini ATV racing has grown by leaps and bounds , and this year alone has set record numbers at various tracks.

Each year the mini ATVs seem to be offering more models with suspension and performance upgrades, but there has remained a limited selection of tires available on the market for the smaller wheel sizes until now. Recently, Maxxis released the all new Razr Cross performance sport ATV tire, which we discovered for the first time trackside at Round 5 of the WORCS ATV Series.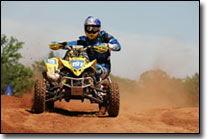 Dustin Wimmer running Maxxis' all new Razr Cross ATV Tires

Maxxis Razr Cross tires were originally only available in Europe till now, and they are designed for motocross racing. Since their release in the states, they have been popping up on many of the top Pro Motocross ATV machines with Suzuki's Dustin Wimmer switching to the Razr Cross for the first time at Round 3 of the WPSA ATV Tour at Cooperland, and he claimed his first win of the year, which catapulted him into the Pro points lead. Since his success, the tires have popping up on more and more ATVs among the Pro ranks as they are proving to be a great addition to the Maxxis tire lineup.

The other great thing about the new Razr Cross tires is that they also work extremely well on mini ATVs as well. The Razr Cross tires sizes provided added ground clearance without substantially weighing down a mini ATV as many other tires do when mounted on Mini ATVs. What drew our attention to the tires was that they offered both front and rear applications for the full sized MX quads, as well as adding some much needed tire height for some of the mini trail riders and XC mini racers.The tires are 4-ply and are offered in two different sizes:

Front:19X6-10 & 20X 6-10
Rear: 18x6.5-8 & 18x10-8

::CONTINUED::