Arctic Cat Wildcat 1000i HO SxS / UTV Links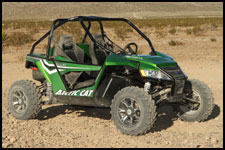 2012 Arctic Cat Wild Cat 1000i HO
Barstow, CA (10/20/2011) -
In the competitive market of Side-by-Sides, manufacturers are going all out to best one another by continuously improving on their products and adding new features, but occasionally a new unit comes out that is a completely different animal from all the rest, and this is just the case with the 2012 Arctic Cat Wildcat 1000 SxS / UTV.
One trend we have noticed in the Side-by-Side market is that the manufacturers have been greatly improving on suspension components for these machines and have been going in the direction of more of an off-road truck or buggy type of set up, and the Arctic Cat Wildcat 1000 is the most advanced in this area of suspension development. The design incorporates double A-arms in front, which is typical, but the rear offers a 5-link trailing arm that is different from what anyone else is putting out and performs like it was meant for Baja racing.
When Arctic Cat first introduced the Wildcat 1000 Side-by-Side a few months ago, we were very impressed with its unique styling and suspension and we were very eager to test ride one. Thankfully, the folks at Arctic Cat didn't make us wait too long and we got our chance to see what the 2012 Arctic Cat Wildcat 1000 SxS had to offer this week in the desert just outside of Barstow, CA.
The wide open deserts around Barstow, CA made for perfect testing grounds for the 2012 Arctic Cat Wildcat 1000i HO SxS / UTV
The area that was chosen for this test ride was a widely used, 30 mile, desert racing style course that offered plenty of terrain variations including sharp rocks, elevation changes, sand washes and wide open, whooped out sand roads. It wasn't the toughest test course that Arctic Cat could have built in the brutal Bartow desert area, but it provided ample opportunity to test the Wildcat 1000 in typical riding conditions.