2012 Argo 8x8 750 HDi Amphibious SxS / UTV Test Ride Review
We test Argo's 8x8 750 HDi Amphibious SxS / UTV in Live Oak, Flordia
Argo 8x8 750 HDi Amphibious SxS / UTV Related Links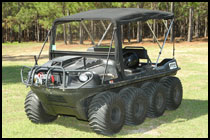 2012 Argo 8x8 750 HDi
Amphibious SxS / UTV
Live Oak, FL (12/03/2012) - At ATVriders.com we know that ATV enthusiasts and racers like to ride off road vehicles any chance they get. That sense of adventure and love of riding drove us to test out the Argo 8x8 750 HDi amphibious UTV. We recently had the chance to ride the Argo 8x8 750 HDi with Tommy Tantillo in Florida.
Tantillo has been using his new Argo for over four months and has plenty of time to test it and really put it through its paces.
"You can fish out of it; you can drive it into a lake or climb obstacles. You can really do anything with the Argo," regarded Tantillo of the amphibious UTV.
The Argo 8x8 750 HDi has amazing capabilities. It is able to travel on both land and water. There are no changes that need to be made or adjustments you simply just drive through what's in front of you. The driver doesn't even need to slow down when entering a body of water. The Argo is so well designed that the driver and passengers really don't even get wet. The occasional splash happens but nothing major.
The 2012 Argo 8x8 750 HDi SxS / UTV is capable of driving on land and in water thanks to its boyant body & tire design. Although it is not a speed boat or sport SxS / UTV, it is great for a unique SxS / UTV riding experience on the trail on in the water!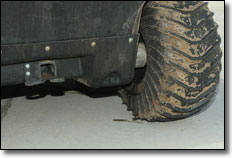 Eight 25" tires give the Argo 8x8 750 HDi SxS / UTV great traction on land & also act as its suspension system
The Argo 8x8 750 HDi is unique from the standard UTV for several reasons. It features eight 25" Argo tires that give optimum traction and work as the machines suspension system. In order to adjust the Argo to mesh with your terrain you adjust air pressure in the tires.
Typically 2.5lbs of air are run in each tire. The Argo 8X8 also seats six adults for dry land adventures and four adults while cruising on the water.

With the 2012 Argo 8x8 750 HDi SxS / UTV you can drive directly into deep water without letting off the thottle. The Argo 8x8 750 HDi SxS / UTV is capable of carring 4 adults while on water & adults or up to 1150 lbs on land or 1000 lbs on water
The Argo is capable of going just about anywhere without getting stuck. Once in a while you can high center the Argo but that's usually due to the amount of weight on board.
::CONTINUED::