Beaver, UT (12/13/2013) -
Just two years after the debut of the 2012 Kawasaki Teryx4 750, Kawasaki has already made some significant updates to their four seat Teryx 4 with the recent release of the 2014 Kawasaki Teryx4 800 with increased engine performance and updated suspension. For the debut of the new Teryx4, Kawasaki invited the media out to Utah for a two day long test drive on the famous Paiute ATV Trail System.
Our Kawasaki Teryx4 800 LE ride adventure began in Beaver, Utah, and the day before our ride, Kawasaki wrangled up the media at the Butch Cassidy Inn to go over the updates to the Teryx4 800 for 2014
Some key items on the Kawasaki Teryx4 800 would revolve around the power plant for the 2014 model year. The engine has been opened up just a little from 749cc to 783cc, which may not sound like much of increase, but it does add to the ponies of this four seat adventure machine as well as the bottom line on the Dyno. The Power by percentage is up eight percent and torque numbers grew at an impressive ten percent.
A new exhaust was paired with the larger 783cc engine on the Kawasaki Teryx4 800
As our minds raced through scenarios of our ride in the morning, I could not help but think of how this would surely help the Teryx4 get over the mountain waiting for us in the early morning. Displacement was not the only improvement to get the final gains in power as the entire exhaust was tuned for the new engine volume and a cam profile had been designed to make it all play nice. Also, the air intake was redesigned to maximize the air flow for increased engine performance.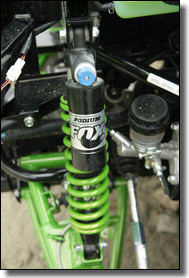 FOX Podium shocks with compression and pre-load adjustments come standard on the 2014 Kawasaki Teryx4
Stepping away from the power, the engineers logged over 1,000 hours in developing the new FOX shocks for the Teryx4 to improve the handling and ride comfort of the Kawasaki Teryx4 800. The FOX Podium shocks on our Teryx4 LE model had compression and pre-load adjustments for dialing in the suspension. One additional advantage to the FOX Podium shocks would be the huge shock bodies, which hold a large volume of oil to keep shock fade at a minimum.  The four-wheel independent suspension is still provides the same suspension travel with 8 inches of travel up front and 8.3 inches in the rear.
Kawasaki has made yet another step in the right direction with their power steering as well. The Kawasaki Teryx4 800 can no longer be purchased without it! You heard us right. Every Teryx4 will come standard with power steering and with a full four-passenger load we couldn't agree more because how much of a difference power steering makes in the ease of steering and reduced arm fatigue.
2014 Kawasaki Teryx 4 800 LE
Candy Lime Green


2014 Kawasaki Teryx 4 800 LE
Candy Burnt Orange