KYMCO MXU 500I 4x4 ATV Links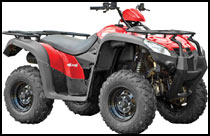 2012 KYMCO MXU 500I 4x4 IRS Utility ATV
Winnsboro, SC -
The growing genre of sport utility ATV's has many manufacturers putting out various models and versions of these popular vehicles in order to broaden their consumer base and provide a certain niche for their existing customers. While there is a wide selection of options and specs for these machines that can vary widely in price, Kymco has filled a void for the budget minded consumer, who is looking for quality at an affordable price by releasing the Kymco MXU 500I Utility ATV.
The MXU 500I comes with a price tag of $6,999.00 and with the introduction of EFI on some of their 2012 models, Kymco has dropped the price of their carbureted MXU 500 IRS to $5,499.00, which we think is an excellent value for a machine that comes standard with independent rear suspension and differential lock.
ATVRiders.com was recently invited out to Carolina Adventure Park in South Carolina for the Kymco Press event to reveal and test some of the company's 2012 model line up, including the MXU 500I. It was a great day for riding so we were very excited to get a look at the MXU 500I and get it out on the trails to see what it could do.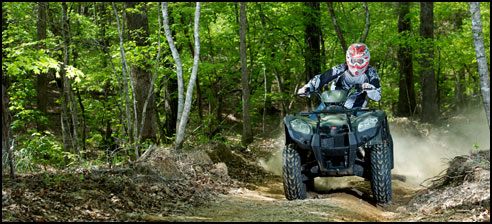 The 2012 KYMCO MXU 500I 4x4 IRS now has sa fuel injected 498.5 cc engine that produces 36 HP
At first sight, the MXU 500I is a fairly attractive machine that offers good protection from the elements. For 2012, Kymco has added fuel injection to several models of the sport and UTV lines to stay current in the industry and has taken the liberty of adding EFI to the MXU 500I, which features a dual overhead cam, four-stroke, four valve 498.5cc engine with a Synerjet throttle body that puts out 36 HP stock. The engine produces decent power for a larger framed machine and the EFI is responsive, smooth, and consistent.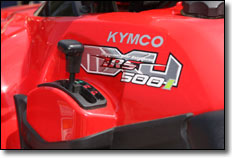 A convenient easy to use gear shifter is located on the left side of the ATV that features high, low, neutral, and park
The high and low range on the machine work well with the low range delivering lots of torque to clear just about any obstacle and has a top speed of about 30 mph. The high range offers smooth controllable power and has a top speed of about 50-55 mph. The machine seems to handle quite well at lower speeds, but when you start pushing the 50 mph threshold, the steering gets a bit twitchy.
One feature of the MXU500I that really stood out for us, was that while most manufacturers put a speed governor on their reverse gears, the MXU 500I does not have one and you are able to spin the tires and get going at quite a good pace going backwards.