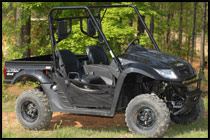 2012 KYMCO UXV 500i UTV / SxS
Winnsboro, SC -
Just about every major off-road manufacturer now has a Side-by-Side vehicle and most of them are substantially more expensive than an ATV with an average sticker price of $11,000.00+, which puts them out of the budget range for many potential buyers, but Kymco has solved that problem by producing a budget conscious UTV, and for 2012, the Kymco has lowered the price of the UXV 500 down to just $7699, and the new fuel injected 2012 Kymco UXV 500i is priced at just $8,799.
Kymco has made it a point to develop the UXV line of SxS vehicles with quality and value in mind especially for those consumers who are looking for a good, solid work horse around the farm or construction site, but Kymco also wanted to give it some versatility for those who also want to get in a little recreational time with their UTV, making it a very well rounded machine.
| | | |
| --- | --- | --- |
| | | |
| 2012 Kymco UXV 500 / 500i 4x4 UTV / SxS | 2012 Kymco UXV 500i SE 4x4 UTV / SxS | 2012 Kymco UXV 500i LE 4x4 UTV / SxS |
We at ATVriders.com were invited out to Carolina Adventure World to take a look at 2012 Kymco ATV and SxS model lineup, and we also had the opportunity to get in some seat time with the UXV 500 line that includes several models with various features, colors, and price tags to accommodate just about anyone in the market for a Side-by-Side vehicle.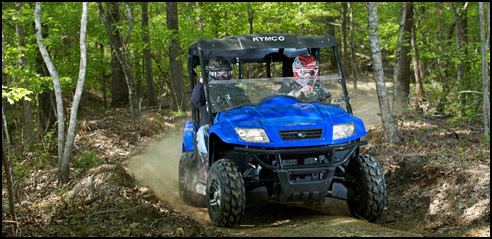 The 2012 Kymco UXV 500 UTV line up comes with the option of fuel injected model (Kymco 500i, 500i SE, & 500i LE) & a carbureted model (Kymco 500). Both offer great power, but it is the electronic fuel injected model like the 500i SE with a Synerject throttle body that gives the Kymco UXV 500i Sxs more response on the bottom end