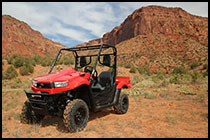 2014 KYMCO UXV 700i
Gateway, CO (12/5/2013) -
KYMCO has worked very hard over the last decade to develop new ATV and SxS vehicles capable of competing with the industry giants, and with the release of the 2014 KYMCO UXV 700i, they continue their effort to stay competitive in the value priced segment of SxS vehicles.  With the addition of the new KYMCO UXV 700 models, KYMCO now has 11 different UXV models to meet consumer demands.
We have always had a positive view of KYMCO in their efforts to put out affordable, yet capable off-road machines that are geared for everyday use. We were very excited when we were invited out to Gateway, Colorado to check out the New 2014 KYMCO UXV 700i SxS model lineup.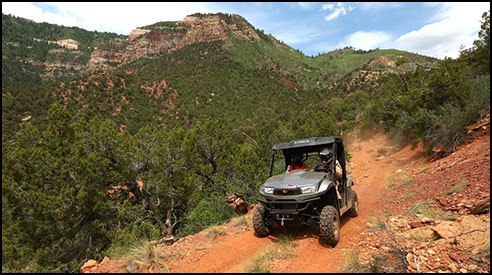 The 2014 KYMCO UXV 700i allowed us to get a breath taking view of the scenery at the Gateway Canyons Resort
Our destination, the Gateway Canyons Resort, which featured absolutely gorgeous scenery along the Colorado and Utah border. The Gateway Canyons Resort is owned by John Hendricks, founder of the Discovery Channel. In 1995, Hendricks first visited the location and was instantly in love with the history and beauty of the area and decided he wanted to share this special place with others, so he soon began designing the resort, which is in the shadow of  "The Palisade" Mesa, which rises 2,000 feet above the valley floor.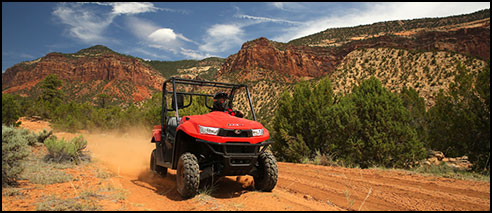 Gateway, Colorado is known for its beautiful red rock Unaweep Canyon. The trails we drove the KYMCO UXV700i were lined with steep red rock cliffs that we dotted with greenery which made for a very unique and memorable drive!
The resort is located in the beautiful red rock Unaweep Canyon. It is thought that the ancestral Colorado and Gunnison rivers may have cut through the soft red sandstone of the Uncompahgre Plateau, exposing stone dated to Precambrian times.
The Gateway Canyons Resort is located in the Unaweep Canyon that is surrounded by beautiful red sandstone cliffs
This is said to be the only canyon in the world that is drained by two creeks; East Creek and West Creek, sending water off in opposite directions. The area offers sweeping views of the red rock formations and plenty of wild life along the way.