Polaris RZR XP 900 SxS Links
Primm, NV (2/25/2012)
- On a resent trip out west I experienced something I honestly have never thought I would do, race a SxS /UTV in the WORCS Racing Series. Being from the Midwest, I have never even been to a WORCS race nor have I ever raced a Side-by-Side, but this would all change. To my surprise, I was asked to get behind the wheel of Scott Kiger's Coastal Racing / Polaris RZR XP 900 SxS and race at my first WORCS event!
After two days of riding side-by-sides at the Sand Hallow OHV park (article to come) in St. George, UT we headed 40 miles west of Las Vegas to a small town called Primm, NV for Round 2 of the WORCS Racing Series at Buffalo Bill's Casino & Resort.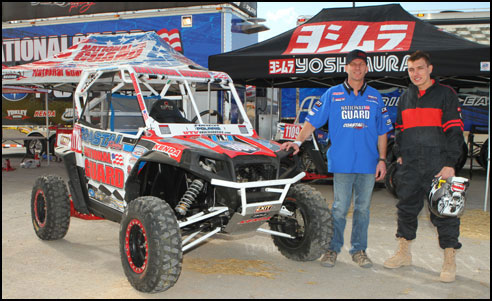 National Guard / Coastal Racing / Polaris Team Owner Scott Kiger & ATVriders.com's Jeff M. Vanasdal at Buffalo Bill's WORCS round 2 in Primm, NV
The original plan was for ATVriders.com's Harlen Foley to race the National Guard / Coast Racing Polaris RZR XP 900 UTV, but as his schedule for the weekend soon began to fill up, I was asked if I wanted to race the red white and blue machine! At first, I was kind of hesitant just because I have never raced a UTV and didn't want to go out and wreck a $30,000 race prepped side-by-side! But I put my nerves to the side and said yes.

Round 2 of the WORCS Racing Series had a record setting 70 SxS / UTV race entries at the Buffalo Bill's Casino in Primm, Nevada, which prompted the 38 entries in the SxS Production 1000 class alone to be split up into 4 rows
The National Guard / Coastal Racing SxS Race team is made up of Scott Kiger and 2011 WORCS and GNCC SxS Class Champion, William Yokley, and each of them race modified Polaris RZR XP 900 SxS machines.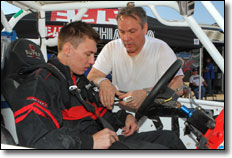 Coastal Racing's lead mechanic, Joe Waligora, did an excellent job of going over every aspect of the Coastal Racing Polaris RZR XP 900 & preparing Jeff for his first ever SxS Race
Before hitting the track the Coastal Racing's head mechanic, Joe Waligora, really made me feel like a factory racer. Joe went through an overview of the RZR XP and gave me a few pointers on how to race a side-by-side, and he was by my side until the green flag dropped.
"This is our second year in our race program. Jeff raced one of original cars from last year. We run exit shocks, 300m axle shafts, Ron Davis radiator, Tire balls, and a few other small changes. The Coastal Racing Polaris RZR XP is a standard width 64-inch car. It's been a good car for us and it runs real strong. We have had a lot of success with this car." Stated Joe Waligora.
Before any SxS racers heads to the starting line, their SxS must go through WORCS Tech Inspection to verify the SxS is equipped with all the required safety modifications. Also, a scoring transponder needs to be secured to the SxS, so ours was mounted to the side of the front wheel well, and ofcourse, the Coastal Racing Polaris RZR XP 900 passed the inspection without any issues.