Houser Racing's Pro Bounce ATV Nerf Bars GNCC Race Review
We Hit the Track and Tested Houser Racings New Suspension Nerfs
Yamaha YFZ450X Project Build ATV Links

Hedgesville, WV (6/18/2011) - Houser racing seems to always offer up products that feature something either a step ahead of the industry or bring to market new ideas in their products that serve function as well as form. We received a set of their new "Pro Bounce" nerf bars to use on our 2010 Yamaha YFZ450X and were pretty excited to see if they preformed as they were advertised which is a tall order then you read the sales hype Houser uses to promote these new nerfs!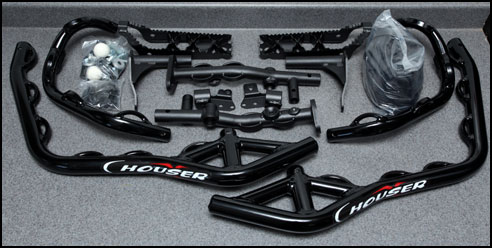 Houser Racing's Yamaha Pro Bounce ATV XC Nerf Bars
Assembly was a bit more then standard nerfs mainly due to the "bounce" part of the new foot peg system. It isn't rocket science and will take you a few minutes reading the supplied instructions and then tackling the actual assembly. On our YFZ-X, the front motor mount is replaced with a supplied mount that acts as both the engine mount and nerf mount. Bolting the new nerf bars on was straight forward and posed no issues with fit or alignment. Houser is also well known for good looking products and we weren't disappointed as the glossy black finish now shined like a new penny. We would prefer the option to get nerfs with just a bare aluminum finish especially being that this quad will spend its life in the world of cross country racing where nothing looks new for long.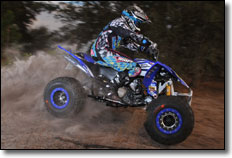 The Yamaha YFZ 450X out on its first test with Houser Racing's Pro Bounce Nerf Bars installed
Our first ride offered no notice of the pro bounce system, and our rider actually forgot to try and "feel" if they were working. After some seat time we still weren't gaining anything in feedback but we were not concerned. Feedback from other racers who have used these forewarned us that the system doesn't lend itself to immediate rider felt actions that one could exclaim worked. Houser racings Pro rider Harold Goodman had been quizzed by us for over a year about the system and our findings were starting to play out exactly as he had explained many times. Goodman advised to just ride them and form an opinion after a race or two.
The first round of the GNCC series would serve as our test bed and brutal just scratches the surface when describing how bad the track became. Eleven miles was laid out for this event that veterans of the series quickly exclaimed as one of the harshest tracks they have ever raced, a perfect testing venue. Our rider was all but destroyed after the two hour race. The first race of the season after a winter of sitting inside watching the snow and ice pile up had many cutting the race short. Sore hands, tired muscles and sheer exhaustion awaited our rider as the days following would be filled with some recovery time and much discussion on how our project YFZ preformed.