ITP Terra Cross RT ATV / UTV Tire Product Review
(written by Kenny Hill)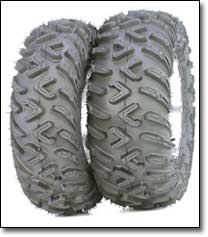 ITP Terra Cross RT Tires

ITP Tires has been at the forefront in the ATV/UTV tire market and for good reason, their tires work! Whether you are a racer or a trail-riding enthusiast, you can bet ITP has a tire to fit your needs. The new Terra Cross RT was offered to us for a review, and we just could not wait to get them mounted and see how well they worked on our Can-Am Outlander 500.

The 25x8R-12 Terra Cross arrived fitted on ITP's SS106 alloy wheel for added strength and lighter weight. Immediately the look of our rather ordinary utility model changed as the combination of the new tire and rim combo added a much more modern appearance. Looks may make one feel better about their machine, but knowing the new XD(Extreme Duty) construction would help resist sidewall punctures is reassuring when far from assistance or the nearest tire repair facility.
ATVriders.com received a complete set of ITP Terra Cross RT mounted on ITP's SS106 Alloy Aluminum Wheels to test on our Can-Am Outlander 500 Utility ATV
For those who live to read the latest tech specs, ITP released Terra Cross RT tire with several improvements for 2008, including the aforementioned XD construction and a new rubber compound to offer more tread life, and are available in 14-inch sizes that are now UTV rated. This should make the UTV crowd happy as stock UTV tires have a tendency to wear quickly and with a stiffer sidewall and added traction of the ITP Terra Cross, a new feel can be added with the upgrade in looks to boot! The radial construction should also provide us with a smoother rider, and for us older riders, anything that can smooth out the ride is much appreciated.
Installation of the ITP Terra Cross RT Tires & SS106 Wheels made a dramatic change in the appearance of our Outlander 500 as the ITP combo added a substantial bling factor to our utility ATV
::CONTINUED::