Shark Kage Multi-Use Loading Ramp Review
::Continued::
The ramp folds up very easily and only takes about a min to fold into the desired configuration.
The Shark Kage ramp can be easily folded up and converted into another configurations including a cargo box, tonto cover, bed extender, sunshade
When unfolded the loading ramp is very sturdy and you can easily walk up the ramp without having to worry about your foot slipping through the ramp. One thing we did notice is that the ramp is a little longer than the traditional loading ramps. This is a nice feature to have not only for decreasing the steepness of the ramp but also prevents bottoming out if you have a machine that sits low to the ground like a road bike.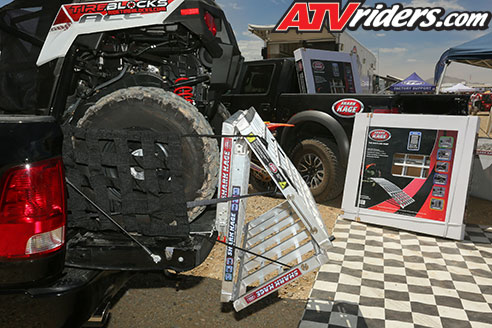 Skark Kage folded up into a bed extender with the side nets installed
Lately, we have been using the Shark Kage to load up our 2015 Honda Pioneer 500. Weighting in over 1,000lbs, the Honda Pioneer 500 didn't seem to faze the Shark Kage at all. Since our Chevy Silverado has a short bed, we have to leave the tailgate down to fit the Honda Pioneer 500, so we simply folded the Shark Kage into the bed extender configuration. Shark Kage also provides a couple tie straps and nets to place on each side when using the bed extender configuration. Once cinched in place, the bed extender buts right up to the rear wheels holding the Honda Pioneer 500 securely in place.
While in the bed extender configuration the Shark Kage can securely hold a SxS in place
The Shark Kage is so secure in fact, you can grab onto the Shark Kage and literally shake the truck. In Shark Kage's Kickstarter Campaign video, it shows Cort Smith jumping his Ford Raptor F150 at 80mph with a dirtbike in the back! Although we don't suggest doing just that, we thought it effectively proved a point.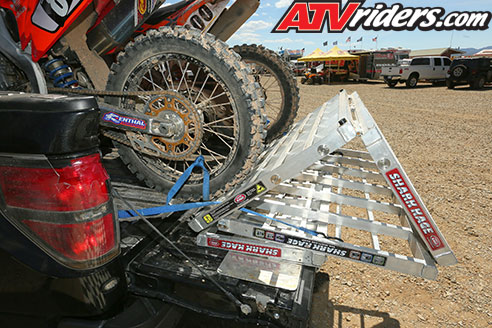 Shark Kage folded up into a bed extender for dirt bikes