Indianapolis, IN (12/4/2014) - Since its introduction to the powersports world in 2007, the Honda Rancher 420 has become a staple to the Honda Utility ATV Model Line up. With over 1.5 million units sold since its debut, the Honda Rancher 420 has quickly become one of the most popular ATV models in its class. For 2014, Honda has made some significant changes to the 2014 Honda Rancher 420 including several engine modifications and chassis updates.
Although Honda used the proven liquid-cooled 420cc fuel injected engine at the base of the Honda Rancher 420 redesign, the displacement remains the same 2014. That being said however, Honda has made improvements to the mapping system that was paired with a new oxygen sensor help deliver smoother power and better throttle response.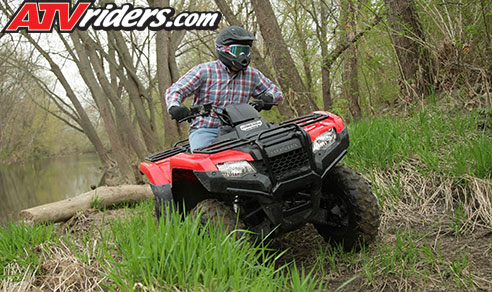 Honda redesigned the Honda Rancher with many improvements including a new mapping system paired with a new oxygen sensor help deliver smoother power
As a direct result of the new mapping in the electronic fuel injection system, the 2014 Honda Rancher now gets better fuel efficiency. With a 3.9-gallon gas tank, although small in comparison to some the larger bore models, can still provide you with almost a full day of riding.
With help from the Honda Automotive department, Honda also redesigned the fuel pump. The new fuel pump is now mounted within the gas tank for better heat isolation and increased fuel filter life.
In addition to the minor engine updates, Honda also redesigned the chassis. The new double cradle steel frame is now 20% stronger and more ridged than previous models. By making the frame stronger, Honda not only improved the durability of the chassis but it also resulted in better handling that takes less steering effort.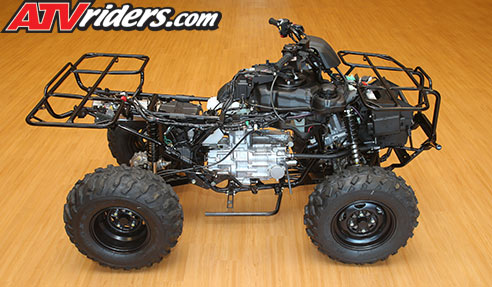 Honda also redesigned the Rancher chassis to be 20% stronger than previous models
With a new chassis design, the electronic power steering (EPS) mounts were also improved by adding another mounting point for increased strength.  Honda did not just stop there with adding another mounting point to the EPS, they also revamped the EPS setting for improved steering response.
The Honda Rancher 420 is very predictable while cornering