Honda Foreman Rubicon Links
Man, WV (10/9/2014) – ATVriders.com was recently invited out the Hatfield McCoy Trail system in West Virginia to test ride the all-new 2015 Honda Foreman Rubicon. The Hatfield McCoy Trail system provided a prefect testing ground to get familiar with all the updates that the Honda Foreman Rubicon received including electronic fuel injection, independent rear suspension, two transmission options, and improved rider comfort features.
The Honda Foreman Rubicon has been a staple to the Honda Utility ATV Lineup for quite some time now, but it wasn't until now that Honda has completely redesigned the Honda Foreman Rubicon from the ground up. Starting at the Honda Research and Development center in Marysville, Ohio, Honda's goal was to upgrade the Honda Foreman Rubicon's comfort and convenience thus creating a more relaxed and smoother ride for off-road enthusiasts.
The 2015 Honda Foreman Rubicon has been redesigned from the ground up for a more comfortable and relaxed ride wither out on the trail, farm, or job site
Upgrading from an outdated carbureted engine for 2015, the Honda Rubicon is now powered by an electronic fuel injected (EFI) 475cc liquid-cooled four-stroke engine. The EFI engine produces smooth predictable power that is almost immediate when you hit the throttle.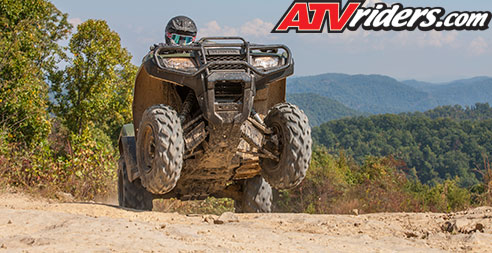 The new electronic fuel injected (EFI) produces smooth predictable power that is available when you hit the throttle
We have been riding the 2014 Honda Rancher quite a bit for our long-term review and we could tell the Honda Rubicon harnesses much more power, which comes in handy when you want to get up to speed or haul a heavy load. Another nice feature about the electronic fuel injected engine is that you no long have to fiddle with the choke or worry about jetting when riding at high altitudes. In addition, the new EFI engine is more fuel efficient, a 12% increase over last years model, which means you can ride longer on one tank of gas!