Kawasaki Brute Force 750 4x4 Utility ATV Related Links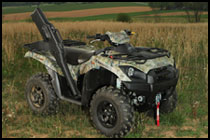 2012 Kawasaki Brute Force 4x4i 750 Camo Edition Utility ATV features Realtree APG HD camouflage plastic, Kulpin Gun Scabbard, & winch
Hedgesville, WV (5/2/2013) - I recently saw an ad from back in the mid eighties that featured a then state of the art ATV, and then I looked outside my office window and stared at the newest offering from Kawasaki, an EPS equipped Camo Brute Force 750i 4x4 utility ATV outfitted with some sweet accessories that was mine to ride and review.
Over 25 years have passed, since I first laid eyes on a four wheeler and it seems like yesterday that my first impressions of a two wheel drive model would one day pale in comparison to what the manufactures offer us today.
The Kawasaki Brute Force utility ATV has always been a well received model, one that has always offered serious power in a user friendly package.
The latest offering still boasts some stump pulling grunt that is needed on the trail or around the farm with a smoothness that affords even a new rider the ability to maneuver safely and with confidence.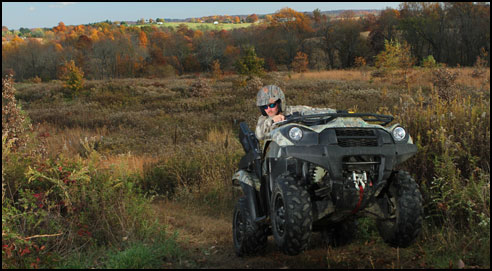 The powerful 749cc V-Twin engine in the 2012 Brute Force 750 4x4i ATV lives up to its name when it comes to power. A crack of the throttle will bring this monster to life!
I know, that may sound like something from a sales flyer, but let me explain. When you stand on the throttle, the Brute will live fully to its name, going from tame ride to a hand full of speed in very short order. The power from its 749cc V twin engine pulls strong from idle to you run out of road.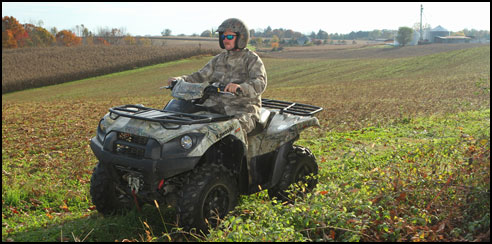 Although the Kawasaki Brute Force is capable of some massive power, it is very manageable on the farm around livestock & farm equipment. This is due to the automatic transmission, straight forward gear select and smooth throttle response