Propper A-TACS AU Pattern Tactical / Hunting Clothing Review
Deer Hunting in West Virginia in Propper A-TACS AU Pattern Hunting Gear
Hedgesville, WV - Getting close to wildlife is a huge part of my life. If I am not hunting, I am trying to get frame filling images and the name of the game is concealment. I have used everything from ground blinds, camo clothing, specially made camo covers and even used vehicles to get as close as I can to my subjects.
Over the years I have started to see things, or try to, as an animal so that I can better blend into my surroundings and for the most part today's camo patterns do an excellent job for most of us. There are so many choices you shouldn't have any issues matching available patterns to suit your needs and having choices can really come in handy.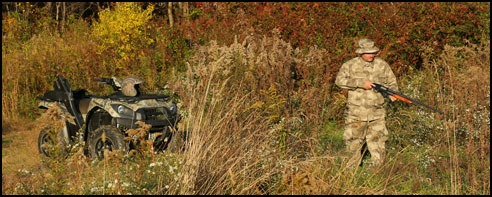 We used the Propper A-TACS AU pattern gear in a photoshoot for a Kawasaki Brute Force 750 Utility ATV Review that will be released soon on ATVriders.com
My biggest issue here locally is that most patterns were just to dark. The large white oaks I use as stand sites are very light and grey in overall tone. With the typical hunting patterns, I stuck out badly. I had been searching for a new pattern that I could try when I noticed an image of a fellow photographer who was sent a set of Propper brand clothing in their A-TACS AU pattern. I decided to take a chance that this pattern would work well for me and ordered a set for myself.
Propper A-TACS AU Pattern Pants

Propper A-TACS AU Pattern Pants

Use the Promo code: "ATVriders0912" on Patriotsurplus.com to receive 10% off
any Propper Item including the A-TACS AU Pattern pants, jacket, hat, & more!
The basic design is typical BDU fashioned, with military spec construction. You have a few options when ordering to suit your wants or needs. My focus was on how well that camo worked and I wasted no time in gearing up and heading to the woods. Fit was pretty good although the hat sizing was off and it was my fault, I was told to follow the sizing by Propper's charts so chalk that up to my bad, so make sure to follow their sizing on any hat you order.