Arctic Cat Wildcat 4 1000
SxS / UTV Links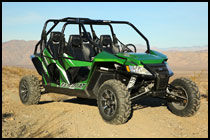 2013 Arctic Cat Wildcat 4 1000 HO SxS / UTV
Randsburg, CA (1/11/12) - Arctic Cat recently released their latest addition to its SxS / UTV lineup, the 2013 Arctic Cat Wildcat 4 1000 HO four seat SxS / UTV. With the popularity of the sport performance Arctic Cat Wildcat 1000 HO SxS / UTV, Arctic Cat chose to follow suit with the ever growing SxS / UTV market and added a four seat model to their lineup.
Arctic Cat just didn't add two more seats to the original Wildcat 1000 HO, Arctic Cat designed the 2013 Arctic Cat Wildcat 4 1000 HO SxS / UTV with many new features to make it handle better for 4 passengers and have better throttle response throughout the power range.
Located less than 40 miles from Mojave, CA sits an old "living" ghost town called Randsburg. The town of Randsburg, CA has a long history of mining and there is still prospects that mine in the area surrounding the town. In the heart of the town is the Goat Sky Ranch Hotel and Cabins. This historic bed and breakfast is owned by former motocross champion & promoter of the Elsinore Grand Prix Todd "Goat" Breker. The Goat Sky Ranch Hotel Cabins has great rooms, comfortable beds, and good home-made food that hits the spot and fuels you up for a long day of off-road riding.
The "living" ghost town of Randsburg, California was our base camp to test drive the all-new 2013 Arctic Cat Wild Cat 4 1000 SxS / UTV on the high desert trails
We would begin our test drive in the new 2013 Arctic Cat Wildcat 4 1000 SxS / UTV right from the Goat Sky Ranch, as the town of Randsburg is OHV friendly and off-road enthusiasts can legally drive on the roads that meet up with the many trails that wind through the high desert. The trails around the town of Randsburg consist of scenic desert riding that range from high speed open sections, hills, rock climbs, small creek crossings, and some of the roughest whoop sections you can find.
| | |
| --- | --- |
| | |
| We stayed at the Goat Sky Ranch Hotel & Cabins in Randsburg, CA owned by former motocross champion Todd "Goat" Breker | The town of Randsburg, CA is very interesting to say the least. Many original buildings from the 1800's are still standing |