Polaris RZR XP 4 1000 Links
Glamis, CA (11/13/2013) -
Less than a month ago, Polaris announced the new 2014 Polaris RZR XP 4 1000 four seat SxS, so Polaris invited the media out to Camp RZR at the Glamis Sand Dunes for Halloween weekend, which is the unofficial kickoff of sand dune season.
For anyone that has ever drove a SxS, the Glamis Sand Dunes is the ultimate playground, and it was the perfect location to showcase the newest addition to the Polaris RZR lineup, the Polaris RZR XP 4 1000. 
The 2014 Polaris RZR XP 4 1000 features all the same great characteristics as the two seat 2014 Polaris RZR XP 1000, but has room for three passengers!
After a brief overview of the features of the new features on the Polaris RZR XP 4 1000, we were set free for the rest of weekend to put the RZR XP 4 1000 to the test in the dunes, and we were immediately impressed by the styling and appearance of the machine. Polaris stated that the XP 4 1000 is a huge thing for them because they view it as an affordable alternative to expensive sand cars of the past and a good way for families to get out and enjoy the culture together, whereas in a two-seater or on an ATV, you just don't get the same experience.
Over 118,000 acres of the best sand dunes in North America, the Glamis Imperial Sand Dunes, was at our disposal in the 2014 Polaris RZR XP4 1000
Another thing we noticed right away about the 2014 Polaris RZR XP 4 1000 was that both front seats are now adjustable, allowing more room for passengers. The frame of the Polaris RZR XP4 1000 has been stretched to give more leg room to passengers in the back. Additionally, Polaris added foam protection behind the front seats and on the rear railing to provide knee protection, which we think is awesome. The back even felt comfortable for taller riders as one of our passengers was about 6'1" and had plenty of leg room and never felt cramped.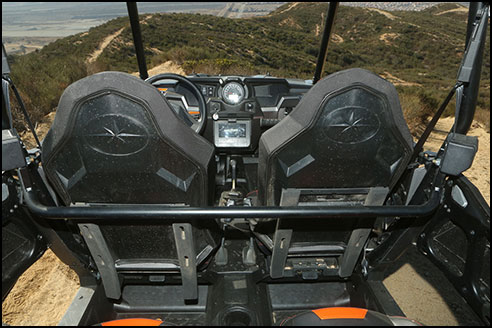 The rear seats are very spacious and features foam on the back of the front seats for added knee protection, which is the first we have seen from a manufacturer
The Polaris RZR XP4 1000 comes equipped with Walker Evans shocks all the way around, just like the two-seater, but the rear shocks on the XP4 have larger 7/8" shafts and larger remote reservoirs to accommodate for the extra passenger weight, where the two-seater version has 5/8" shock shafts. The suspension has 18" of travel that soaked up everything it came across.
Larger remote shock reservoirs & shock shafts help soak up the additional weight of the longer wheel base & two extra passengers