Hurricane, UT (9/30/2014) - In October 2013, Polaris released their all new 2014 Polaris RZR XP4 1000 four seat SxS, and ATVriders.com was lucky enough to get their hands on the Polaris RZR XP4 1000 for a long term review. Over the past seven months, we have tested every aspect of the vehicle's handling and performance and are ready to provide a long-term review of our findings. Our test drivers have subject the 2014 Polaris RZR XP4 1000 to an array of environments and conditions including  massive sand dunes, rocky riverbeds, wooded trails and much more giving us an expansive knowledge of what to expect from the vehicle in any situation.
At the time the vehicle was released, we had just tested the two seat 2014 Polaris RZR XP 1000, and we were excited to have all the same great features available in a vehicle that allowed us to take more passengers along for the ride.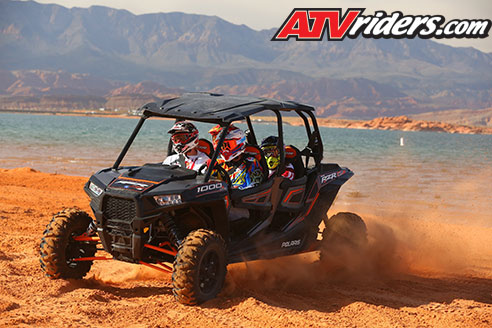 The 2014 Polaris RZR XP 4 1000 shares the same great features as the two seat Polaris RZR XP 1000 but has room for four of your family or friends
A welcome change from the prior models of four seat Polaris RZRs is that both front seats are now adjustable. With that change, in addition to the lower set rear seats and longer frame, there is now ample space provided to the back seat passengers, and there is also foam protection on the back of those front seats just in case a bumpy ride causes rear passengers to make contact with the front seat and the foam looks and feels the same as it did six months ago with no obvious breakdown or need for replacement.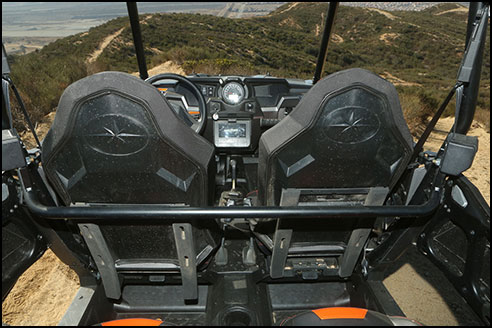 The rear seats are comfortable with an ample amount of leg room. In addition, there is a large grab handle & foam on the back of the seats for added safety
The new seat layout on the Polaris RZR XP4 1000 has been well received by everyone that has gotten a chance to go for a ride either up front or in the back seats.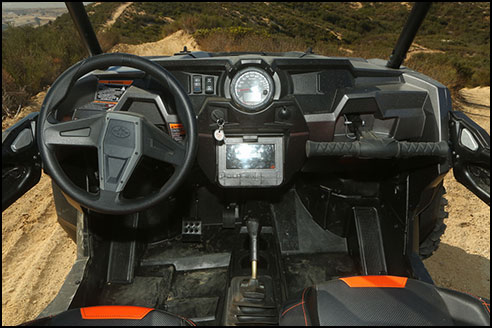 Inside view of the font seats in the Polaris RZR XP 4 1000